The Oxford Handbook of Psychology and Spirituality will be available from Oxford University Press on February 20, 2024.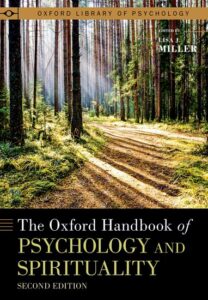 This updated 2nd edition of The Oxford Handbook of Psychology and Spirituality codifies the leading empirical evidence in the support and application of postmaterial psychological science. Lisa J. Miller has gathered together a group of ground-breaking scholars to showcase their work of many decades that has come further to fruition in the past ten years with the collective momentum of a spiritual renaissance in psychological science. Relevant to both current university students and established scientists and practitioners ready for new models and direction, the chapters trace with epistemological clarity the core questions of psychological science: How does the brain really work? How might experimental design reveal that all people truly are connected at the level of consciousness, both during our lives and after our deaths? Are there multiple pathways to awakening a spiritual reality? How can we pursue growth and spiritual transformation?
With new and updated chapters from leading scholars in psychology, medicine, physics, and biology, the Handbook is an interdisciplinary reference for a rapidly emerging approach to contemporary science. Highlighting fresh ideas and supporting science, this overarching work provides both a foundation and a roadmap for what is truly a new ideological age.